Schott Music - Special Offer
Tuesday, 8 December 2020 | Forwoods ScoreStore

*THIS SPECIAL OFFER HAS NOW COME TO AN END*
Please check our homepage for information on current special offers!
Schott Music are celebrating their 250th birthday! To help them celebrate, we have a very special offer running from now into the New Year. Until 31st January 2021, you can order Schott editions through Forwoods ScoreStore at up to 25% discount.
The Schott catalogue contains some core classical repertoire - Fritz Kreisler, Carl Orff, Igor Stravinsky, Paul Hindemith, Peter Maxwell Davies and hundreds of other leading composers - and tutor books and studies such as Feuillard for cello, Doflein for violin, Uhl for clarinettists.
In 2020, a quarter of a millennium after it was founded, Schott Music is one of the leading music and media publishers for classical and contemporary music, and incorporates over twenty music publishing brands. Since its beginnings in 1770, Schott Music has been family-owned and today, the parent company in the historic city of Mainz, along with its international subsidiaries, is headed by Dr. Peter Hanser-Strecker as president and managing director.
With its broad and international publishing programme, ranging from performance and educational literature, urtext editions, teaching methods, six specialist journals, choral music, jazz, study scores, complete editions, books on music, and CDs, Schott Music has influenced all areas of musical life. Schott also provides theatres, opera houses and orchestras around the world with performance material for almost 10,000 concert and stage works.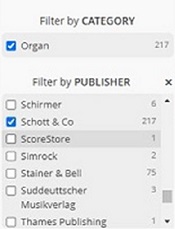 Around 150 employees in editorial, production and distribution contribute to the international success of the publishing house and, together with the composers and authors, help to create new music. They give fresh impetus to musical life and meet the demands of customers from all over the world.
We are honoured to have been a leading retailer of Schott Music in the UK since 1946. We have always promoted their products as excellent, and found their staff and representatives to be unfailingly friendly and helpful.
The quickest way to identify Schott products at Forwoods ScoreStore is to select your instrument from the navigation bar at the top of the page, then use the 'Filter by Publisher' tab to the left of the products. This will display only Schott products, and they will all be adorned with a most delightful '25% off' flag!
Happy shopping, happy music-making, and most importantly of all, happy 250th birthday Schott Music!