New releases for little Johnny and Auntie Flo
Thursday, 8 November 2018 | Forwoods ScoreStore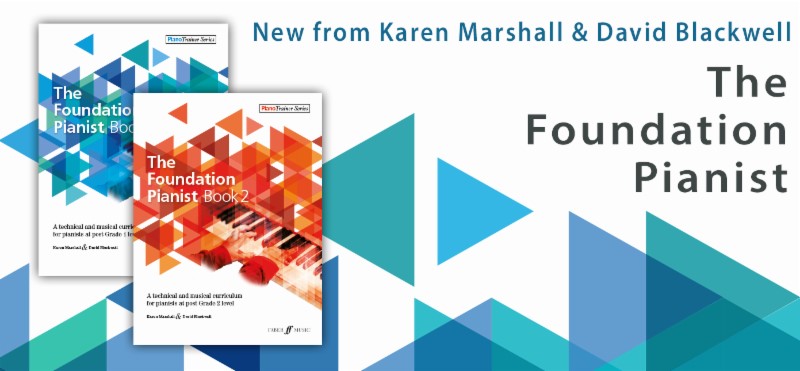 As the music trade emerges blinking and gasping from the September/October onslaught, it's time to update you with news of new publications which have reached our shelves over the past few weeks.
The Foundation Pianist (Faber Music)
New in Faber's PianoTrainer Series is The Foundation Pianist by Karen Marshall and David Blackwell. Designed for students at post-Grade 1 and 2 levels respectively, the aim is to develop a technical and musical foundation that helps them to progress to the intermediate level. Each book explores piano technique through a variety of elements such as daily exercises, sight-reading, repertoire and musical time travel. More [here]
Grade 8 Piano Anthology 2019-20 (Peters Edition)
With the new ABRSM piano syllabus, for exams in 2019-20, comes the new Grade 8 Piano Anthology from Peters Edition, with 24 pieces from Lists A, B and C of the new Grade 8 list. The volume includes performance and aural notes on each piece from leading educational experts. Unbeatable value for students, teachers or advanced pianists looking for inspiring repertoire. More [here]
Grieg Piano Concerto New Edition (Peters Edition)
This new edition of one of the most famous of piano concertos is based on an in-depth revision of the existing (and tried and trusted) Edition Peters version (EP2164). The piano part of the orchestra reduction has been revised, optimized, had instrument references added and collated with the score of the Grieg Complete Edition. The solo part has been reviewed and corrected with reference to the two main sources. More [here]
easiLEARN Theory Fundamentals (Hal Leonard)
A fun book for beginners to learn the basics of music theory in a step-by-step approach. As well as one page lessons, you can make your own flashcards, receive a certificate and enjoy a host of online resources that make easiLEARN an ideal place to start. Prep & Grade 1 already available. More [here]
Guitar Exam Pieces from 2019 - a brand new suite of books (ABRSM)
ABRSM have completely overhauled their offering for student guitarists, with new exam books and supporting material. Exam books for Grades 1-5, Prep Test, Scales & Arpeggios and Joining the Dots sight-reading books. More [here]
Alongside the new exam books comes Guitar Star, which offers beginner guitarists a refreshing and inspirational choice of pieces to help build confidence and musical skills. The repertoire is imaginatively tailored to develop specific techniques through an exciting range of musical styles. With over 40 pieces, including a number of duets as well as colourful illustrations, activities and a play-along CD, Guitar Star provides a rich variety of new repertoire at this level and will fire the imagination of young learners.
Beethoven Hammerklavier Sonata Op 106 (Wiener Urtext)
200 years ago – in 1818 – Beethoven composed one of his most monumental piano sonatas, the Hammerklavier Sonata Op. 106. The newly revised edition of Wiener Urtext Edition contains a contribution by Johann Sonnleitner who sheds light on Beethoven's problematic metronome markings. Listen to the Swiss Pianist Berhard Ruchti on this topic on YouTube [here]
More info [here]
Music Diary 2019 (Boosey & Hawkes)
The best-selling diary returns for 2019 with a user-friendly portrait format, extra space for weekend appointments, and birthdays of hundreds of famous people in the world of music. More [here]
Christmas Piano Anthology (Faber Music)
The perfect Christmas gift for the intermediate pianist - equally suitable for little Johnny and Auntie Flo!
The Faber Music Christmas Piano Anthology is an essential collection of the greatest Christmas songs and carols, specially arranged for solo piano, for the intermediate pianist. The perfect gift for Christmas, this beautiful anthology includes favourites such as O Holy Night, Sleigh Ride and It's Beginning To Look A Lot Like Christmas alongside arrangements of Winter (from the Four Seasons), Troika (from Lieutenant Kije), and other exciting titles.
More [here]
Thanks for reading!