A little piece of Forwoods history
4 Comments
Thursday, 7 November 2019 |
Stephen Yarrow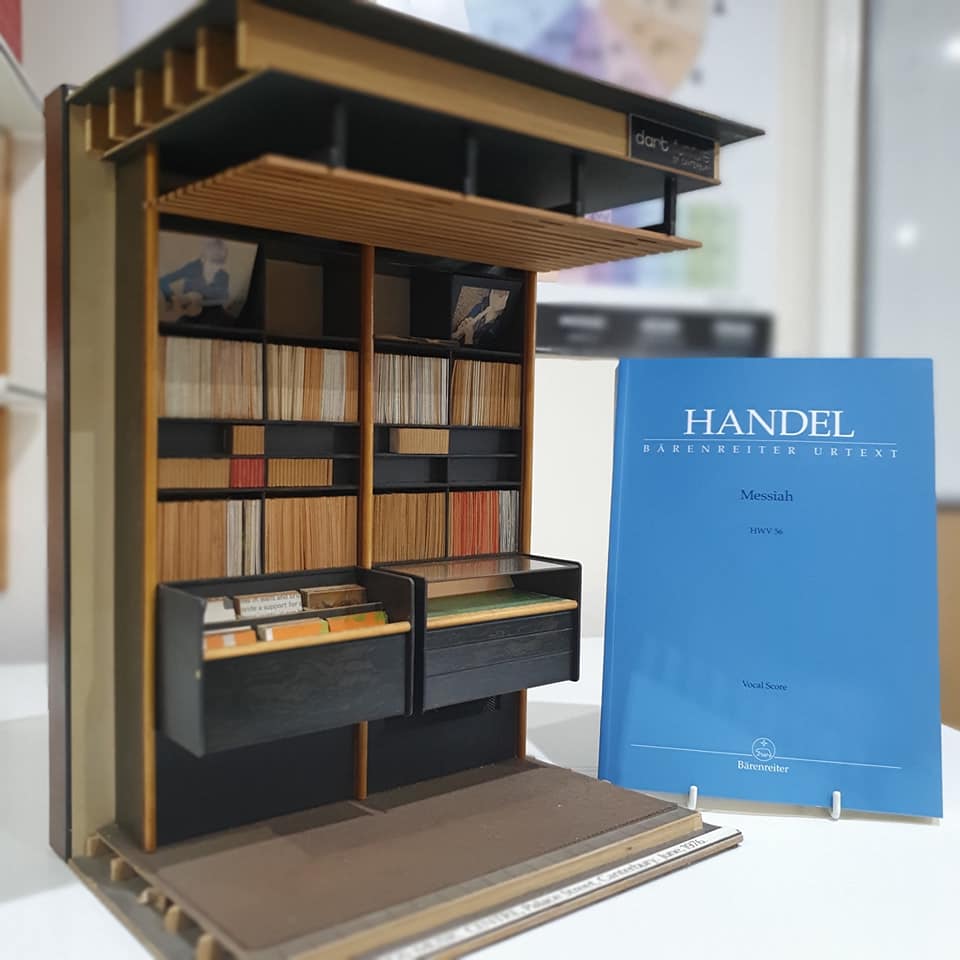 We have recently been given a charming little maquette of the design for our former shop premises in Palace Street, Canterbury. Made by Dart Designs in 1976, it is likely to strike a chord with anyone who remembers the shop.
The shop was opened in 1946 by Reginald Forwood to supplement his income as a lay-clerk at Canterbury Cathedral. One former Saturday girl recalls, 'The shop was very chaotic in Reggie's time as he was far more interested in telling fabulous stories than actually selling stuff! No good putting anything down for a moment as it would instantly get covered up or put back in the wrong folder. And with no computers we had to rely on his encyclopedic memory when ordering things in.'
Reg Forwood retired in 1974 (although he continued working part-time) and his daughter Julia and son-in-law Roddy, a civil engineer, took over the shop. With the help of their old friend David Stewart of Dart Designs, they set about transforming the shop from a quaint and slightly chaotic enterprise into one of the most beautiful showrooms in the country. This maquette was the design for the classical sheet music showroom - No 37 Palace Street.
The current owner of Forwoods, Stephen Yarrow, writes, 'When I started piano lessons in the late 70s, my father was working in Canterbury and was despatched one day to pick up a book for me. I remember him coming home and saying to me, "You must go and visit Forwoods... their walls are lined with music books!" And so I did, many, many times as a student, rifling through the piano and organ music to my heart's content. When I went off to the Royal Academy of Music in 1983, the first cheque I ever wrote was to Forwoods Music for something they had sent me.'
Every serious musician who visited Canterbury would call in at Forwoods in Palace Street - Michael Tippett, Harold Darke, David Willcocks - and of course the local musical fraternity turned it into an artistic hub, especially with Forwood Bookings ticket agency handling the box office for the Canterbury Festival, Marlowe Theatre and London's West End theatres.
The department selling classical records closed in 1986 and further re-fitting turned that part of the shop, 35-36 Palace Street, into a browsing room for pop music. Quite a departure for what was seen as a rather staid organisation! On the first floor was the instruments showroom, beautifully racked out for guitars and orchestral strings, with glass cases for the brass and woodwind, glistening away.
The Tyndale-Biscoes sold the business in 1993 and Forwoods, under its new owners, was one of the first music shops in the UK to install a computerised stock control system in 1995. This enabled us greatly to expand the mail order department. As internet shopping began to take hold around the turn of the millennium, it became clear that the mail order business was beginning to overtake the 'bricks and mortar' business, and in December 2001 the decision was taken to close the shop and move the business to a new location near Dover, operating solely by mail order.
Since then, we have acquired other similar businesses and expanded to become one of the market leading printed music suppliers in the United Kingdom.
So much for the potted history! Back to the maquette...
Roddy & Julia Tyndale-Biscoe sadly both died in the summer of 2019. Julia had been ill for many years, and died on 23 July. Roddy, who had cared for her so lovingly for many years, passed away three days later. The maquette was found among their possessions by the family, and given to us as a piece of Forwoods memorabilia. It certainly stirred many memories for us, and I hope it does for you, too.
Speaking personally, I joined Forwoods directly from the RAM in 1986. I had no business experience. I was intending to stay for a couple of years while I built my performing career. But Roddy and Julia were such marvellous employers and such lovely, lovely people, that seven years later I was still there and lucky enough to be in a position to buy the shop from them. After their retirement, they were always happy to offer help and advice whenever it was sought, and I can honestly say, as I have to several people this summer, that Roddy was among the three or four most influential men in my life. This miniature of the old shop will remind me of them each time I look at it. We shall miss them both.
Image: Julia Tyndale-Biscoe with her mother May Forwood at the 50th Anniversary celebration of Forwoods Music, 1996